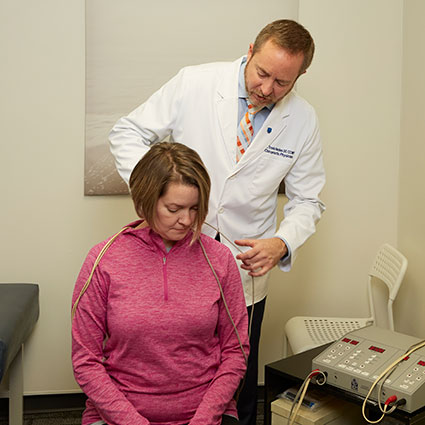 About Comfort Chiropractic
Our Mission
Our mission at Comfort Chiropractic is to provide short-term chiropractic care for neck or back pain that doesn't involve extensive treatment plans or commitments, and that is affordable with or without insurance.
We do this in a relaxed, pleasant, upbeat environment where you won't feel hurried or rushed. Our staff looks forward to your appointment and greets you by name. Dr. Heckes takes the time to listen and conduct a thorough examination so he can get to the root of your problem and get the results you're looking for.
MEET DR. TRAVIS HECKES »

Our History
Dr. Heckes is from South Central Kansas and, after graduating from Cleveland Chiropractic College Kansas City, he practiced in the area where he grew up—for a few years. He missed Kansas City, so he moved and began practicing here in 2006. We've been in our current Overland Park location since 2020.
We have been rated one of Kansas City's 26 Best Chiropractors by 435 Magazine, a Patients' Choice winner from OpenCare, and one of Overland Park's top clinics by Expertise.com.
We Honor Your Health Goals
For over fifteen years, we have been helping patients achieve their health goals. We have countless success stories, such as the high school student who sought care when no one else could offer relief from the daily headaches she'd had for years. After a short course of care with us, her headaches resolved, and she couldn't even remember the last time she had one.
Whatever your health goals are, we honor them and work with you to achieve them. We find that most patients simply want relief and return to their daily lives without pain or restriction, and we are glad to provide that. Some patients have questions about improving their overall health and wellness, and we can accommodate that.
Either way, we won't lock you into a long-term treatment plan. We know you have better things to do than spend all your time at the chiropractic office, so we'll design a treatment plan that's effective and efficient, as well as affordable.
Book Today
Contact us today to book your first appointment.
---
About Comfort Chiropractic | (913) 341-4325